10 Mar 2021 IN Design
Key factors of web design for a successful website in the year 2021
If you own any business without online presence, there are chances to miss some online opportunities which will help your business with growing revenues. It is must to have an online space through beautiful website and excellent web designs. You can own a fascinating website by hiring a web design company or build a website by yourself. Among all, web design matters a lot!
This piece of writing is going to discuss about important aspects of web designs. There are also certain aspects of web designing that are vital. These essentials include white space, navigation, colors, fonts, positioning, typography, usability, and mobile ability.
Dark Mode
Dark mode is the latest trend and will also dominate 2021. This simple effect has powerful dark background. World's top apps have dark mode effect including WhatsApp, Chrome, Instagram, and Facebook Messenger. This effect has numerous benefits including elegant and sleek design. This favourite night mode is also famous because of its light pixels and helps in smooth reading.
If you want to create effective website that attract more visitors, you can mix dark mode with clean graphics and minimalist effect.
Minimalism
When it comes to classic web design, minimalist design came to rescue. In simple meaning of minimalism is simplification of avoiding unnecessary elements. You can do more with less text, heavy graphics.
Minimalistic web design concept is the prominent way to use graphic elements, different color palettes, and various navigation options. With this concept, you can draw visitors' attention using attractive graphics and make them engaged. You can also achieve minimalistic web design by ignoring long paragraphs and using HD images or videos to deliver brand message.
Things to remember, when you try minimalist web design concept:
Hidden navigation
User-friendly interface
No more than three colors
Lots of empty space
No excess color transitions, shadows, and other details
Black & White
The power of black and white web design will be continue in 2021. This is one of the most interesting aspects in web designing trend. You will get plenty of attention from your site visitors as theme color is major part of website design. The black & white design is the most powerful tool that has zero exception. You can stick with monochrome layouts and create amazing design concepts of your brand online. You can also maintain power of simplicity and originality for your brand.
With this concept, you can avoid dull presentation of your site with high contrast black & white illustrations and photographs.
Glowing Color Schemes
You can also try your hands on luminous color schemes concept which is totally opposite of black & white design concept. This is booming trend in web design. The color scheme of this concept is glowing neon colors that pop and it includes pinks, yellows, purples, and blues.
So, if you want to make your website stands out, you can try this popping color concept for your website design.
3D Elements
This is one of the most exciting website design trends of coming years. Thanks to recent technologies, you can catch users' attention using 3D elements. This concept is data interpretation of three dimensional objects on the screen. This concept is specially used in medicine, gaming industry, science, and more.
Using 3D elements concept, you can add sense of originality on screen and present real product feel. You can also impress your customers through creating feeling of physical appearance.
White Space
When it comes to effective web design, white space matters a lot. It does not meant to be a blank space on web page but this space helps to bring visitor's attention. It also gives contrast to the page by removing more options from the website. White space also includes the gutters between text blocks, images, and blank areas of each page which makes effective website design. It also makes your website page look professional, clean, and sophisticated.
Color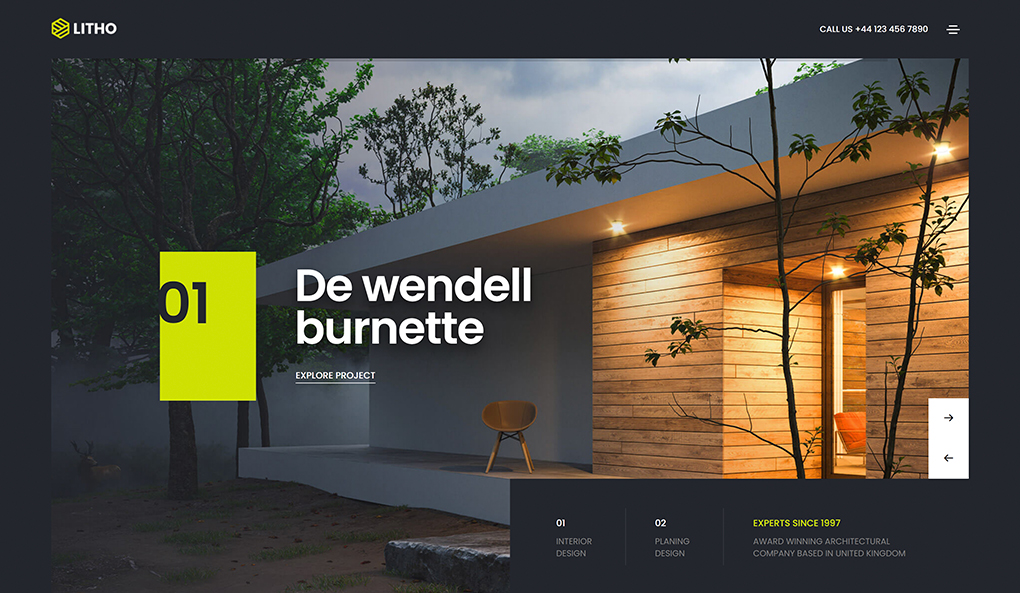 Color palette makes a vital impact on your website. When you are planning to choose colors for your website, it should make perfect balance of contrast and harmony. If you choose heavy contrasting color for your website, it can be distracting. All selected colors match your logo that attract more visitors to the site.
Before selecting color palette, kindly consider below points:
First and foremost thing is colors should not be overwhelming and overpowering.
It should match with brand logo and its color scheme.
Selected colors should also compliment with each other.
More bold colors can be used to drag viewer's attention through call to action buttons.
Subtle colors should be used as backgrounds and it must work well with font colors.
Navigation
Navigation is one of the most essential elements of your website design. It refers to how the menu is setup and how it can be viewed. If navigation of website is not proper, you will not be able to figure out where to go. Sometimes, it becomes tough to identify navigations if you have not labeled well.
Things to remember when creating website navigation:
You should always label menus and button clearly so that people can understand where they will be going and where to click.
All menu and buttons should be easy to find.
Choice of navigation should be as simple as possible as it will help users to decide where to go.
Positioning and Alignment
When you have decide to arrange the elements of website design, positioning and alignment truly matter. If element is placed well, visitors will easily see it and enjoy the proper flow of information. After positioning, alignment comes and it is necessary aspect to address. Alignment places all pieces in the correct positions.
Mobile friendly
Nowadays mobile friendly websites are vital when it comes to bring more visitors to your site. So, your website must be responsive for all type and size of screens. Large amount of visitors are coming from mobile. Your website design should be attractive that help visitors to stay for long.
Typography
When it comes to text on website, it must be clean and easy to understand. Website text says a lot about your business and brand. If you want to setup a visual tone of your website, typography should be addressed well. Typography includes font styles, size, colors, length of lines, spacing, and paragraph styles.
Usability
Usability is important when it comes to testing out your website. Through this, you can test your website performance and check how it works. This is the most important step that needs to be taken before making your website live.
Tips to remember when your design website for usability:
You need to stick with standards of designs like certain use of symbols and having menu at the top or other sides.
You also need to take care of users' requirements and what they want to experience. Excellent usability is must when you want to plan a successful designs for your website.
Bottom line
At the end, more visitors are what every website owners want. So, it is must to impress viewers through fascinating website designs because if visitor does not find your website design attractive, there is a chance to bounce your website easily.
For immediate assistance with any type of website design and eCommerce development related requirements, connect with us now!